Cut Costs with a Charming Afternoon Wedding
Choosing the Best Wedding Entertainment
Exclusive Wedding Gown Designs of the Fall Season
Five Bizarre but Brilliant Wedding Ideas
How To Transform A Village Hall Into A Stunning Venue
Wedding Registries for Older Adults
Hot Trends from the Spring 2013 Wedding Dress Collections
The Fascination with Beach Weddings
Getting married is traditionally one of the most important occasions in a young woman's life. It's the time when the attention, praise and adulation are almost exclusively reserved for the bride. Months of anticipation from the guests will culminate in the first sight of the wedding dress making its way down the aisle. The white dress which is synonymous with the wedding day is what every girl longs to be seen in. Or is it? The 21st century has churned out some of the strangest things and one of those has been the trend to get married in a little less than a white dress. There has been a growing fascination with the idea of ditching the dress for a bikini and the church for a beach! The idea of marrying in the tropics with a guarantee of sunny weather with crystal blue seas as a backdrop is a temptation which has materialises for more and more people.
So what of the bikini?
Well, in recent years popularity for this style of wedding attire has not really caught on. When Pamela Anderson tied the knot with Kid Rock in 2006, a white two piece bikini was worn. This might seem like a brave choice for some but the former Baywatch babe had no reservations as she said her vows whilst flashing her curves. The average UK bride might feel a little perturbed by the idea of all her relatives bearing witness to what the good Lord gave her! It would mean being a special kind of person to pull this off, i.e. the kind of person who really doesn't give a damn what other people might think.
To beach or not to beach?
So you've made your decision. What next? There are a multitude of venues around the world which offer this type of wedding. Ideally if a bikini was to be worn, then the temperature would be the principle factor. A warm climate would undoubtedly be far more conducive to the exposure of flesh than a chilly morning in Blackpool. One of the most popular destinations is the island of St. Lucia in the Caribbean. In fact the Caribbean in general has been considered the place to head to if you want to have the perfect tropical wedding. The lure of paradise is often worth the sacrifice of the quintessential English church and fleet of Rolls Royces back home.
There are other reasons why a couple would opt for far flung fields in order to begin their union. With the average cost of a wedding gin the UK costing in excess of £10000, marrying abroad may actually work out a lot more cost effective. The reasons for this being that only selective guests would need to be catered for and you will also save money on the cost of your honeymoon since in most cases, it will be right on your doorstep.
It is debatable whether the trend for beach weddings will continue as the recession kicks in. Some couples are going for cheaper options by using registry offices or home weddings. Some will even put their big day on hold indefinitely!
Having said all that, given the opportunity it will be naïve to believe that this option would not be at the top of most people's wish lists. Idyllic destinations will always have the edge over a rainy day in Essex. …albeit without the bikini!
This exploration of beach and bikini weddings was brought to you by Ladbrokes Bingo.
---
Planning a Big Second Wedding
These days second weddings are pretty common, and people no longer expect the couple to have a tiny wedding with only their immediate family. A second wedding can properly be any size that suits you, as long as you keep a few points of etiquette in mind. These tips on planning a big second wedding will help ensure a great day that will be fun for everyone.
A quick note: the designation first wedding or second wedding is based entirely on the bride. If she has been previously married, they are planning a second wedding, even if the groom has never before wed. Conversely, it could be the groom's tenth trip down the aisle (let's hope not, though!) and the bride's first, and that would make it a first wedding. So whenever we talk about second weddings, it means that the bride has been previously married. The first tip for second time brides is to realize that you can most of the same things you did before, with a few specific exceptions. As long as you keep that in mind, you will be in good shape.
There are often questions about what a second time bride should wear. When you are planning a big wedding, you should choose the dress that suits the style of the event. If your wedding will be held in a cathedral, go ahead and pick a wedding gown with a long train. Or if you like a big full skirt, that is absolutely fine. The key is to select a bridal gown that is age appropriate, just as first time brides should do. What would suit a bride in her late 20s might look too young for a second time bride in her late 40s. But do not feel like you have to wear something subdued just because it is not your first wedding. You can even get away with wearing white if you wish, although ivory would technically be more proper. Certainly you can have fun choosing glamorous bridal jewelry, great shoes, and a pretty headpiece. Just be aware that a veil is really only for first time brides.
A second time bride can have any type of marriage ceremony that she and her fiance want. It could be in a church, in a garden, in a private club, whatever suits your fancy. You can definitely have the big traditional church wedding the second time around, with just a few modifications. Technically, second time brides should not have a bevy of bridesmaids. Perhaps choose just one honor attendant, such as your sister or your daughter, if you have one. The groom should just have a best man to keep things balanced. Then there is the issue of who walks down the aisle with the bride. Many youngish second time brides still really want that moment of walking down the aisle in her fantasy wedding gown and pearl bridal jewelry on the arm of her father. It is okay, but your father shouldn't "give you away" again. Once done, that's done. Speak to your officiant about removing the question "Who gives this woman in marriage?" from the ceremony. Especially do that if you have requested that your son escort you down the aisle, because he probably doesn't want to give you to someone else!
Once you get to the reception, you can have any style of big wedding that you like. Second weddings can certainly include all the traditional elements like the first dance, the toasts, and the cake cutting. It would be best to skip the garter toss, but then again, I tend to think it's always best to skip that anyway. Try to relax and have a fantastic time at your wedding, knowing that you are on the path to a wonderful new life!
Bridget Mora is interested in wedding etiquette, wedding planning, and wedding fashion. Visit Silverland Jewelry today to find elegant affordable bridal jewelry made from sparkling Swarovski crystals, luminous pearls, and glittering czs.
---
Top 15 Offbeat Wedding Songs
Are you the type of bride who is daring enough to appear in a low-cut, thigh-high slit dress instead of a traditional, long wedding train? Or are you the type of groom who would totally go for a zombie apocalypse-themed wedding? It is a fact that some people love to break out of the norm, and would never go for "old people" weddings (not that there's anything wrong with that). For free-spirited couples such as these, safe choices are never an option. Their special day has to have a fitting soundtrack. It doesn't necessarily have to be something that everybody can immediately sing to, but it does have to capture the couple's unique, albeit quirky passion for life and love.
With so many different choices, making up a wedding play list can become quite the daunting task. It's hard to find the perfect mix of songs that haven't been ridiculously overdone – Etta James' "At Last" or some good old Tony Bennett will certainly elicit smiles from your wedding guests, but they would probably get a strange feeling similar to deja vu, especially if it isn't the first wedding they've been to for the year. Here are some suggestions from our friend Brilliance.com, jeweler extraordinaire. Below is an eclectic mix of proven favourites for that very special first dance, from the undisputed classics, to indie, to trendy.
The Beach Boys "God Only Knows"
Al Green's "Love and Happiness"
Massive Attack's "One Love"
The Pixie's "La La Love You"
Lou Reed's "Perfect Day"
The Cure's "Friday I'm in Love"
Harry Connick Jr.'s "Come By Me"
Jamie Cullum's "I Think, I Love"
Renee Olstead's " A Love That Will Last"
Mayer Hawthorne's "Make Her Mine"
Bruce Springsteen's "If I Should Fall Behind"
Bright Eyes' "First Day of My Life"
Jason Mraz's "I'm Yours"
Incubus' "Monuments and Melodies"
Adam Sandler's "I Wanna Grow Old With You"
Of course, no wedding is complete without the perfect jewelry to complement your look, but in this case, any old off-the-display jewelry won't do. Chances are, jewelers won't have the design you are looking for anyway, so why not make one for yourself? Custom jewelry is the way to go, and a lot of online jewelers like Brilliance makes it even easier for you to have one made. All you need to do is to email them a sketch of the design you have in mind to have it rendered in 3D. They'll send you back a copy of the the design, and once you approve of it, it'll be shipped within just a week.
Citations:
Author bio: Author George, an advertising consultant at Brilliance Loose Diamonds, is also a writer who can't live without good literature or good music.
---
Wedding Planners Are Worth Their Weight in Gold
Gone are the days when only the rich and famous could afford to hire a wedding planner. These days wedding planners are pretty affordable and it's generally recognised that they can actually save you money. Imagine that, a wedding that costs less and without the stress.
According to Wikipedia), wedding planners are particularly useful if you're planning a destination wedding. And that seems logical enough. After all, finding venues, caterers, flowers and meeting all legal requirements is challenging enough in you own country, having to do it in a completely foreign location is exponentially so. But that still smacks of rich and famous, and shouldn't detract from the fact that planners are exceptionally handy for busy two-income couples who don't have time to scout myriad reception halls, vineyards and beach hotels and meet with countless photographers and cake makers to find the perfect one.
Then there is the fact that planning a wedding is just plain daunting. Granted, some people are on their second, third or fourth weddings and have all the know-how and contacts necessary to ensure their big day goes off without a hitch. But first time brides don't have a clue and often only realise exactly how much work is required when they're knee-deep in invitation patterns and table cloth swatches.
How do wedding planners simplify the process?
It's simple: they do everything.
Planners are guides through the wedding process and sometimes guides need to point out the starting line. So, if you have absolutely no ideas for your wedding, a planner will help you. With all their experience in the industry, planners are a creative well from which couples can draw no end of inspiration. After spending a little time with couples to find out more about their wants, needs and, importantly, budget, planners should be able to come up with a number of suggestions for themed weddings, locations, colour schemes, decor, etc.
They will help allocate the budget. They know what percentage of the budget should go towards, flowers, the dress, catering, the cake and favours. And, because they have contacts with everyone involved in the wedding process, they know which printers offer the best deals on invitations, which venues offer the best deals for block bookings and which dressmaker's style suits the bride-to-be.
What's more, planners generally have discount arrangements with many vendors and suppliers and if they don't, they are usually able to negotiate favourable rates and discounts. Which is where there money saving services come in. They also save you transport costs because you don't have to travel to loads of meetings. Instead they'll narrow down your options for venues, cakes and flowers, present you with those options and you just have to visit the ones you like best before you make your final choice. That's money and time saved.
When it comes to the big day, planners ensure that the flowers arrive on time and are properly arranged; that the caterers know when to have the starters ready; that the cake is brought out on time; that the DJ has the right playlist; that the cash bar is well stocked; and that all the big and small details are taken care of so the only thing the happy couple has to worry about is the opening dance.
If you're still worried that you can't afford a wedding planner to do everything, you can hire one on a consultant or part-time basis, either at the beginning to get the ball rolling or at the end to tie up all the loose ends.
Sandy writes on behalf of Now Learning, which promotes short online courses in Australia, such as business management and event coordination.
---
Engagement Rings – What Are The Best Qualities Of A Good Ring?
An engagement ring is not just a simple décor on a woman's finger; it is a symbol of a woman who has already pledged her undying love and devotion for her husband-to-be. It is no wonder that an engagement ring is considered as a sacred object and should be made of precious stones or gems. A woman only gets to be engaged once in her lifetime, so it is considered as a very important moment of her life. Since time immemorial, engagement rings are mostly made of diamonds. The diamond gem would be placed as the symbol of eternity and love between the soon-to-be married couple. And as such, it is very important to choose only the best diamond rings for the occasion.
How exactly do you choose which engagement ring would be best for you or and your bride-to-be? Do you simply pick the most expensive ring from the catalogue? Or do you choose one that has really lovely design? It really depends on you actually and you will also have to consider your fiancée's choice and fashion sense. There are a lot of things to consider when choosing the right one from among a list of designer engagement rings, so if you are looking to buy a ring today for your engagement, here are a few things that you need to check before buying the jewelry.
Price
It is already understandable. Because of the economic problems that our society has to face every day, we are forced to make decisions to save money despite any special occasion. While most people tend to frown at an affordable engagement ring, there are a few exceptions. There are some engagement rings that look just like the expensive ones, but they can be bought within an affordable price range. Don't let your judgment be affected by sales talk coming from the manager of the jewelry store. Buy one that is really fit for your budget.
Style
This is one important criterion that your bride-to-be would most likely ask you to check. Let's face it; women love to wear jewelry or clothes that are popular and are in tune with the latest fashion. Different rings have different themes. There are full eternity rings that have a classical theme while there are also engagement rings that have a modern look. Nowadays, there are a lot of styles that one can choose, but it is really just up to you.
If you want to get a beautiful engagement ring but don't want to spend all your savings in buying one, then there are affordable designer engagement rings for you. Make your engagement night together with your wife-to-be memorable but gentle for your pocket! Buy one today from the Internet or in a jewelry store.
---
Wedding Invitation Ideas
A wedding invitation does not have to be created from gold leaf or printed by professionals to be lovely. Many simpler styles are charming to receive and fun to make. Craft your own design and give it a personal touch. Add hand-drawn features that are unexpected and unique, especially if your wedding party is small.
Brides and grooms are no longer thinking just along traditional lines when they plan for their big day. Invitations are often written using brightly colored papers, or with no paper at all. Choose just two or three colors, however, so that each detail stands out. Each one could be individually crafted, or simply add a few ornamental elements to each one as it comes off of your printer. Save money by avoiding professional printing firms and doing the work at home. A number of software packages allow consumers to make stylish cards, which is handy if there are lots of people to invite. The internet also provides some free templates. Even simple card stock from your local stationery or craft shop is a good medium to work with.
Share a love of puzzles by making your wedding invitation into a puzzling game. Send jigsaw pieces to create an image of your wedding venue or reception site, or make the entire puzzle more complicated as guests solve riddles to reveal information. Simplify the game into a child's maze or dot-to-dot, just for a laugh.
Make a wedding invitation fancy with the addition of three-dimensional scrapbooking stickers which represent your interests and those of your partner. You could even send children's party favors that will give your friends a chuckle, such as glow-in-the-dark decals or balloons that say 'Just Married.'
Send an invitation over the internet to save paper. Many of these permit recipients to RSVP, again without having to use paper. E-mail cards can be goofy, musical, religious, or sentimental, and you save a lot of money on stamps. Just be sure to consider both your personality and that of your fiancé.
Saving money is a bonus, but having fun is the main goal here. Share this time creating a wedding invitation design with your fiancé or a good friend. Make this a project you can do with your mother or sister. Create memories not just of the wedding day, but of the pre-nuptial planning stage and not just memories of stress either. Add snapshots of laughter and creativity.
Melanie Vipers is a wedding planner and loves creating wedding invitations for her clients.
---
Alex Monroe Jewellery - A Favourite With Celebrities
The Celebrities Favourite: Alex Monroe Jewellery
Nature is the main them of the intricate creations by renowned international designer Alex Monroe who couldn't help being influenced by the rural surroundings of the Suffolk countryside when he was growing up.
Intricate detail holds the key to the unique Alex Monroe designs which are skillfully hand-made a team of top craftspeople. Celebrities have latched on to his work and the bumble bee necklace, which comes in both gold and silver, caused a real buzz.
Sienna Miller, Sophie Dahl and Harry Potter star Emma Watson among others have been spotted and photographed wearing the gold bumble bee necklace. And Kimberley Walsh, from Girls Aloud, has been known to favour the peacock feather earrings which still stood out under her flowing locks.
Getting On The Small Screen

There's nothing like a bit of product placement, however inadvertent, on high-profile TV programmes.
Konnie Huq became Blue Peter's longest-serving female host when she overtook the record held by Valerie Singleton in October 2007. When Holly Willoughby stepped down as presenter of The Xtra Factor on ITV2 Konnie Huq took over for the 2010 series. And if viewers had happened to be looking closely they would have seen Konnie wearing another Alex Monroe creation in the form of a dragonfly necklace.

But the glitter of the necklace failed to rub off on the presenter's performances. Konnie left The Xtra Factor citing other work opportunities but it was rumoured that the show's supremo Simon Cowell had given her the push as he was not over-enamoured with her performance.

Emilia Fox has played forensic pathologist Dr Nikki Alexander with colleagues William Gaminara and Tom Ward in Silent Witness on BBC1 for eight years after following replacing Amanda Burton. And she is obviously a fan of the Alex Monroe range of jewellery as one of his necklaces is worn in several episodes.
The History Of Jewellery
Necklaces have been around for about 40,000 years dating back to the Stone Age. There were no woven materials in this era and obvioulsy no Alex Monroe and what would later become the thread or string was made of vines or lengths of tendons which were the remains of creatures hunted for food.

This basic twine was then threaded with things like teeth, shells, bones, teeth, bits of wood, stones and gems.
In the Bronze Age giant strides were made and once metal could be melted gold, silver, copper bronze, and a host of other metals were used to make necklaces which were worn by both sexes. Chains could also be made out of metal to repalce the thread, twine or string.
Necklace and other jewellery making has come on leaps and bounds since then and intricate designs, like those typified by the work of Alex Monroe, are now commonplace.
Plaisirs Boutique offer a fantastic collection of Alex Monroe jewellery , available via the website and the shop in the Channel Islands.
---
Helpful Tips for Tall Brides
Being a tall bride can help you to look stately and elegant as you walk down the aisle. There are also a few things to keep in mind when shopping for your wedding dress, picking your bouquet, and your wedding accessories. These are some very helpful tips for tall brides.
The most important thing that a tall woman needs to remember when shopping for her bridal gown is to make sure her dress will be long enough! It definitely won't look good if your wedding dress is too short. When you order a wedding gown that is made to order, you will generally have the option of ordering extra length on the skirt. Try on the sample wedding gown with the highest heel you might ever want to wear to ensure you order enough extra length. Also keep in mind that dresses get shorter as the dress size goes down, so if you will be buying a smaller dress than the sample size, you will need to take that into account.
Sometimes for tall brides getting a great fit in a bridal gown is about more than making the skirt longer. You may also need to have your gown cut with pattern changes like a longer torso or a higher neckline (particularly for a strapless dress). If buying a dress with spaghetti straps, you may need extra strap length as well. Something else you may need a special cut for is your bridal veil. It is best to order your veil in the specific length needed, rather than by the name. A "fingertip length" veil might only come to your wrists if you have long arms! A good bridal consultant will be able to help you get the right measurements for your wedding dress and your veil.
Being tall gives you some great advantages when it comes to style. You will look stunning in a mermaid gown that a shorter bride could never carry off. Tall women can wear a very full ballgown and look utterly regal, without having the dress swallow them up. As a woman with height, feel free to explore trendy oversized details, such as giant silk flowers on the skirt or a dress made with dramatic ruffles. Those bold details will look exquisite on you! As a rule of thumb, tall brides look best in dropped waist styles, but that will definitely depend on your proportions. You can also consider a gown that has deep hem lace or another accent at the bottom of the skirt without worry that it will chop you up visually. Lucky bride!
Bolder wedding accessories are often gorgeous on tall brides. Accent your long neck with a pair of long chandelier earrings in your bridal jewelry set. Or select a fashion-forward bib necklace to wear with a strapless bridal gown. If you want to stack up several bracelets on one wrist, go for it. Really the main concern is wearing bridal jewelry that has enough presence. Very dainty pieces may appear undersized or childish on a very tall woman. When it comes to your wedding shoes, the heel height is a personal decision. Some tall women adore towering stilettos, especially if their groom is also on the tall side. On the other hand, if you are concerned about having to bend down when the officiant says, "You may now kiss the bride", you might be more comfortable in a pair of stylish flats. Sometimes the groom will have an opinion too, so do be sensitive to his feelings on this matter.
Last but not least, a tall bride should carry a bouquet that is in proportion to her height. A tiny posy will not make enough of a statement for a tall woman. Choose either a fuller round nosegay or a fabulous cascade of blossoms. An elegant presentation bouquet is another beautiful style of floral arrangement to consider. With everything in proportion, you are going to look absolutely breathtaking on your wedding day!
As a former bridal salon manager, Bridget Mora knows what it takes to get a perfect fitting wedding gown. Let Silverland Jewelry help you design custom bridal jewelry to make your wedding day sparkle.
---
Three Tips For An Eco-Chic Wedding
Many couples who try to live a green lifestyle often want to reflect this when they get married. A great wedding is one that embraces the uniqueness and individuality of the couple at every twist and turn. For those of us who are not so eco-savvy you are probably imagining a wedding reception around a campfire with people in long flowery skirts! Unless you wish it, this definitely doesn't need to be the case. These days there are so many options open to those wanting an eco-friendly wedding whether on a large or small scale.
Go For Organic Food
Organic food can be found in every supermarket and is no longer the rarity that it once was. 'Organic' refers to the way in which farmers grow and then process their produce, be that fruit, vegetables, meat or dairy. Organic farms use natural alternatives such as mulch or compost compared to the widely sued weed killers and fertilisers that are found on most farms. When it comes to live stock organic farmers will ensure that all their animals have sufficient room, clean pens and good quality food in order to encourage growth. This is compared to the use of growth hormones and other medications that can be used at non-organic farms. There are a number of very good organic catering companies out there who only supply the highest quality and ethically reared produce. Organic food does tend to be a little more expensive than non-organic but when catering for a large number of people many caterers will add a bulk discount.
Use Recycled Materials
From invites and save the date cards to service plans and place settings there is always an abundance of paper and card needed at weddings. For all of this you could consider choosing stationary that is made from recycled materials. This not only helps to preserve paper but also looks fantastic. There is a huge trend at the moment for natural themed weddings and we are seeing many invitations sporting designs of birds, leaves and trees. Kraft card invitations which are embellished with raffia or twine always look fantastic and can be handmade really easily.
Choose a Suitable Venue
You are not restricted to just hotels and churches for your wedding ceremony and celebrations. These days many different and unusual types of venues have a wedding licence and offer a sustainable alternative to traditional venues. Country park tea rooms, nature reserve visitor centres and heritage sites are fast becoming the choice venues for eco-chic weddings. It is also worth considering a wedding tipi as an alternative to a marquee. These huge tipis can accommodate well over 100 guests and come furnished with wooden benches and even open log fires!
Vicky loves weddings! She has a specil interest in uniqiue and unusual weddings as well as handmade wedding crafts! She works alongside The City Rooms who are a prestigious wedding venue and Leicester wedding fair organiser.
---
Buying an Engagement Ring: Where to Start?
Source: Carrie Nelson
So you've decided to ask your girlfriend the big question: Will you marry me? But now you have to start the (rather intimidating task) of finding the perfect ring. We know how much of a tough decision this can be, so we've put together a check list of all the things you should be thinking about hen shopping around, as well as handy tips to make sure you get it right first time.
Tip 1: Ask her friends and family
If your girlfriend has a group of close friends or sisters, they are likely to know what kind of ring your girlfriend is after, so why not ask them? They'll usually be very understanding and be happy to help, just make sure you swear them to secrecy first!
Tip 2: Take a look in your girlfriend's jewellery box
Does your girlfriend already on lots of jewellery, if so – you might be able to gather information about her style and preferences through that. You need to try and figure out whether your girlfriend would prefer a simple ring with one diamond – or whether she'd prefer a cluster of diamonds. Is her jewellery collected understated at the moment or does she like her bling? All of this you need to think of.
Tip 3: Research the different shapes of Diamond you can choose
There are several cuts you can choose; a brilliant round cut, a marquise cut, a princess cut, the list goes on. When you head into your jeweller they'll be able to show you examples of all these different cuts and you can make your decision from there. If possible though, try and get an idea of what your girlfriend likes – is she showy or shy? Is she girly or a tomboy? Information like this will help you when picking the right shape.
Tip 4: Try to find out the type of metal she prefers
You could do this many ways. You could look through her jewellery box again and see what kind of metal the majority of her rings and necklaces are – this is often a good way of finding out what she likes and what her preferences are (and she will have preferences – so don't kid yourself). If your girlfriend has absolutely no Gold in her current jewellery collection but instead has Silver and White Gold, the chance are she doesn't like the colour of traditional Gold – so wouldn't be too keen if you bought her an engagement ring that colour and metal. Another way of scoping out her preferences is to do a trial run with another piece of jewellery. Visit a high street shop and find two necklaces, in Gold and Silver that are relatively cheap – purchase them both and take them home as a present. Tell her you saw them in the window and thought of her, but didn't know which metal she'd like more. This way you'll get your answer, your girlfriend will feel very loved (because of the gift) and you don't need to worry you've picked the wrong metal for the ring. It might even throw her off the scent of the proposal!
Tip 5: Look for a retailer that you trust
Find a retailer that you trust enough with this decision. Independent Jewellers and high street jewellers are fantastic at offering you all the information and help you will need.
Tip 6: Get her finger measurements
There are some tips that might help here. You could either measure one of her own rings to get the size (most reliable option), or purchase a stock size. Getting the ring size correct is so important. You don't want it to fall off when she has wet or cold hands. So it's probably best to get the ring re sized at a later opportunity post proposal just in case. This means the ring size will be spot on, as it would have been correctly measured by the jeweller. It also covers you just in case she doesn't like the ring. If you have purchased a stock size, it should be exchangeable. However if the jeweller makes a design up to your specific finger size, it can't be exchanged.
Good luck!
About the author: Elle Rose works for gold-traders.co.uk. Elle works closely with customers wishing to sell old jewellery to re invest into a new contemporary design. As a result, she speaks to many men seeking a new engagement ring and provides cash for gold information on how to go about the whole process.
---
Perfect by Design - The Benefits of Custom Wedding Jewelry
The day you say "I do" will be one of the most important days of your life, and you want it to be as close to perfect as possible. Make it even more memorable by designing your own custom wedding jewelry. If you're thinking you've got enough "Big Day" details to worry about without having to take a class in custom jewelry design, relax. A reputable jeweler can act as your design consultant and craftsman. So if you'd like your wedding jewelry to be as unique as you are, here are three great reasons to consider custom jewelry.
It's Personal:
Of course your dress will be breath taking and your flowers amazing, but only your jewelry will act as a personal, daily reminder for you and your groom of how special your wedding day was, and how sacred and lasting your vows remain. And when that jewelry consists of one-of-a-kind creations, designed by and for you and your partner, your memories and your commitment to one another will become even more intimate and meaningful. Plus, you'll have the personal satisfaction of knowing that, even though yours may not be the most spectacular ring in the room, no one else will be wearing it.
It's Economical:
Although designing custom wedding jewelry sounds like an expensive proposition, it will most likely save you money. After all, it's not about starting from scratch. It's about creating something unique with what's already available to you. Rings made of precious metals can be melted down and used again. Family gifts such as old diamonds or other precious stones can be reborn in custom settings. For the less adventurous, unique settings for that special stone may also be found ready made in larger jewelry stores. Either way, by supplying the stone yourself, you can expect to save thousands of dollars.
It's Sentimental:
Fine jewelry, by its very nature, has lasting value. But the value of jewelry passed down for generations is everlasting. The beauty of heirloom jewelry is that it can be recycled and made new without losing its sentimental value. Stones may be recut and reset and the metal melted to make a new setting. So unless your grandmother's wedding ring came with the caveat that it is not to be altered, you should consider respectfully "repurposing" it for your own wedding day. After all, what better tribute could you make to a beloved ancestor than to create something new to be passed on and cherished from something that, in its present state, may have been forgotten in the bottom of the jewelry box.
As previously mentioned, the importance of finding a reputable jeweler to assume the dual role of design consultant and custom craftsman is crucial. With a working knowledge of precious stones and metals, a jeweler will have many ideas that will help you to create the best design possible. Also, a jeweler will be able to properly evaluate your heirloom ring or stone as to how it may best be used to create the piece you desire at a price you can afford.
Tina Henderson is a freelance writer who specialized in jewelry.
---
Wedding Inspiration: Vintage Style
Vintage themes are becoming increasingly popular with people who are planning their weddings. Whether you want to go for 30s glamour, or 50s chic, putting together a themed wedding is a lot of fun, and if you tie everything together well you'll have a gorgeous ceremony that you'll remember for the rest of your life.
Finding Inspiration
Before you start planning your vintage wedding, take a little time to research the period that you've chosen as the theme. Look beyond the wedding dress, silk underwear, suits, and satin glove liners and think about the rest of the setting.
What sort of venue will you choose? What music would people have played during that era? What hair styles were popular then? Watch a few movies from those periods, and flick through some local history books to see what was in fashion, and what life was like back then. A little extra planning will make it so that for one day, you're stepping through a time warp and get to enjoy a great retro experience.
Sourcing Vintage Materials
You might be able to find some vintage gear at thrift stores, but you'd have to be very lucky to put together an entire wedding from thrift stores alone. You will most likely have to look at vintage stores online, and source some items such as "vintage style" satin glove liners from wedding specialists, or Etsy crafters. Consider taking a trip to some specialist boutiques, if you're lucky enough to live close to a city that has them.
From Head to Toe
Finding shoes to fit might be a challenge, as shoe sizes vary from maker to maker, let alone decade to decade. If you're buying online, make sure you can return the shoes easily if they don't fit. A trip to an antique costume store that sells shoes might be a good idea. There are some designers that make vintage styled shoes, and will customize the colour and the design to complement your gown.
You should be able to get your hair and makeup done at a normal salon, unless you're planning a very unusual style. In some respects, choosing a vintage wedding makes life easier - nail art is a relatively modern fashion, for example. Do a test run of your hair and makeup before the day, to make sure you like the look.
The Finishing Touches
To round out the day in true vintage style, consider adding an authentic vintage cake topper, and using antique silverware and vintage table dressings, instead of the more modern items that most caterers are likely to use. Some hand-made vintage favours to give out to guests would also go down well.
Vintage on a Budget
If you go the designer route, then the bill for your wedding gown, silk underwear, designer shoes, custom fit tuxedo, and other items will quickly mount up. If your budget can't cover a full designer get-up, opt for simple modern styles for less essential items, and source as much as you can from thrift stores. It doesn't make sense to break the bank over an outfit that you'll only wear once!
Article written by Amy Fowler on behalf of Patra: suppliers of silk underwear and silk glove liners. Photo by Ryan Polei.
---
The Bride Wore Red
Fashions change constantly and this also applies to wedding dresses. As the Duke and Duchess of Cambridge prepare to celebrate their first wedding anniversary on April 29th, the dress that Kate wore is still being copied by brides across the world.

But what makes us choose the dress we do? Perhaps as a girl we fell in love with a dress we saw in a film, or have always wanted to design a gown that reflects our personality. With so many styles to choose from it's no wonder that it's a lengthy process choosing 'the dress'. They say that once you find it, you'll know it's the one, which may also have been true of your fiancé.

As the busy spring wedding season starts, we've compiled a list of wedding fashions through the eras, which may help you decide how you want your dress to look.

1. The roaring twenties
Bright red lipstick and heavy black kohl were the ultimate accessories for the flapper era of the 1920s. Dresses made from silk, chiffon and lace with dropped waistlines and handkerchief hemlines were adorned with feathers and beads, signalling the beginning of female freedom and the end of the restrictive corset. Coco Chanel also introduced the first knee-length wedding gown.

2. The fabulous forties
During and after the Second World War, dress material was in short supply and many wedding dresses were created around the 'make do and mend' slogan. Even Princess Elizabeth used ration coupons for her wedding dress, which was designed by Norman Hartnell. In spite of rationing, hemlines once again became long and were frequently adorned with lace.

3. The swinging sixties
Mini-skirts reigned supreme in the 1960s, with A-line and empire style dresses ending at the mid-thigh or even above the knee. Sleeves were short and occasionally puffy and popular materials included taffeta. Hippy weddings favoured sundresses with floral garlands and bare feet, a far cry from the traditional wedding dresses of the fifties.

4. The eclectic eighties
Decorum returned in the eighties with floor length dresses popular once again. Dresses tended to be big, with plenty of ruffles and decorative lace, which unfortunately led to talk of 'meringues'. Puffed or off-the-shoulder sleeves were also common, as people copied the wedding dresses of Lady Diana Spencer and Sarah Ferguson.

5. The unusual noughties
The last few years have seen a variety of wedding dress styles, as women choose gowns to reflect their individual style. More brides are favouring a strapless, fitted gown or opting for the traditional elegance of Kate Middleton. Gothic dresses with full corset and skirt have also been popular and some couples have even opted for a themed wedding, with the bride dressing as Princess Leia or Cinderella.

John Lewis Wedding Insurance

It doesn't matter which style of dress you choose as long as you know it's 'the one'. Once you've found your dream dress, the whole concept of your wedding becomes more real and exciting.

You want your whole day to be perfect, so make sure your dress is protected. It doesn't bear thinking about, but if your dress is damaged and you have John Lewis Wedding Insurance, we'll cover the cost of repair, or the price of a replacement dress.

Our Wedding Insurance policy starts from just £65.62 and we offer six levels of wedding cover from £10,000 to £50,000. This includes the reimbursement of your costs if your wedding has to be cancelled because of the illness of the bride, groom or member of the wedding party.
Find out more about Wedding Insurance from John Lewis.
---
Things to Check Before Sending Save the Dates
Save the dates are invitations that are sparse on details compared to 'full' invitations or RSVPs. These are not invitations containing the full details surrounding an event, and they won't generally tend to include things like the time of the event, nor the exact location. The idea of save the dates is that you send these before you have all of those details completely set in stone. Often for something like a wedding, deciding on the exact specifics regarding numbers, locations, timings and seating can be difficult and take a lot of time. If you don't let anyone know about your event before you have arranged those elements, then in many situations you will find yourself with very few people attending your event because they will have made alternative arrangements.
If you use save the date cards however then you are warning people early enough in advance that they are unlikely to have anything pre-planned and this way they can then deign to keep that date/dates free.
But of course you need to have some planning done before you send save the dates too. You can simply send out your save the dates the minute you decide you're getting married or that you're going to Christen your child. The more information you can include the smoother things are likely to go and the more likely you are to achieve a full house.
There are some things meanwhile that you absolutely need to be aware of before yous tart sending out your save the date cards. For instance you need to make sure that you know who you want to invite – as otherwise you won't know who to send the save the date cards too. To do this you will also need to have some idea of budget before you go ahead. If you do not then you will end up sending your save the date cards out, only to find that you can't afford to invite that many people. This then results in a very painful and stressful process of having to uninvite some of the people you set the save the dates to. To avoid this, simply make sure to have an idea of who you are inviting before you send any cards.
You also need of course to know the date that you are going to be hosting your event. Otherwise your cards won't have much purpose. Simply saying to someone that there will be an event at 'some point in the future' doesn't give them any information and doesn't enable them to make any relevant plans. On the other hand however, you don't need to necessarily have exactly specific dates. For instance you might decide that you are going to host your event during the weekend, in which case you can send save the dates invitations and simply ask people to save time across those days. Alternatively if you were undecided between two separate dates, then you could send save the dates and list both dates – and you could also ask for feedback on which was more convenient for people.
Creating save the date cards for any events can be very handy to ensure your close people attending the event. Author of the guest post Jordon Siron is passionate writer and in professional life works at smartpress.
---
Get The Celebrity Wedding Look: Kate Middleton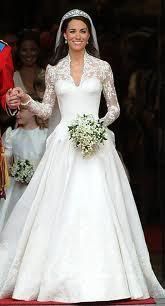 It is no secret that every bride on their wedding day wants to look (and be treated!) like a princess – so many brides-to-be are now trying to emulate the style of Kate Middleton on her wedding to Prince William. To many people, it seems Kate Middleton has been living a true fairytale going from a 'commoner' to marrying her real-life prince while getting a wedding day that most of us will only ever be able to dream of! This blog will dissect her wedding style and give tips as to how you could try and get some of her style into your wedding day!
The Dress
Kate wore a beautiful lace creation by Sarah Burton at Alexander McQueen which was especially designed and made for her. Now, the cost of this dress was probably more than the budget of many weddings but you can still get some tips for your own wedding dress from this. You could try and find a dress with long sleeves and lace overlay and many dress-makers and wedding dress shops are stocking lace-inspired creations. For brides who want to closely copy the dress, then you may be pleased to know that Justin Alexander have made a replica at a snitch of the price.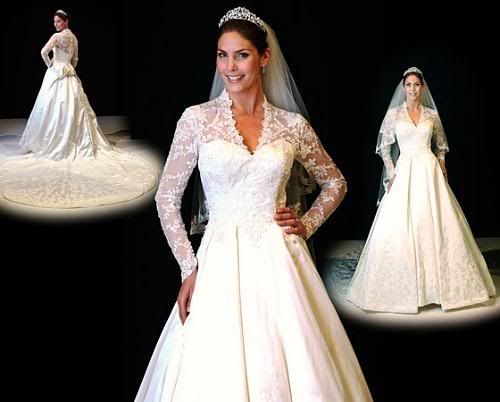 The Tiara
Kate's tiara was the ultimate 'Something Borrowed' as the Queen lent her a Cartier 'halo' tiara that was made by the Duke of York in 1936. Again, there will be lots of cheap replicas of this tiara floating about but if any members of your family have kept their tiara front heir own wedding day it would be a nice personal touch to your outfit. However, your something borrowed does not have to be a tiara, you could borrow earring a bracelet or any other piece of jewellery.
Evening Dress
Not only did Kate get to wear a magnificent dress on her wedding day – she wore two! After the ceremony and drinks reception, Kate got changed into a much more simpler and comfortable dress in which she could enjoy her main reception better. This could also be a good idea for the more average bride, especially if your main wedding dress has a long train or many layers that may make it uncomfortable to wear all day long. The evening dress does not need to be overly expensive, as everyone will already have seen you in your wonderful first dress. Why not look in a local department store for a simple cream dress?
Flowers
Kate's bouquet may be the easiest part of her style that people an copy. Kate's flower bouquet was small and simple and contained myrtle, lily-of-the-valley, sweet William and hyacinth. Kate also added ivy into her bouquet as it symbolises fidelity, marriage and wedded love, which is a very sweet idea.
Hair Style
Kate's hair was beautifully styled yet still managed to look lovely and natural. The half-up half-down do is easy for any hairdresser to recreate as are the loose curls. Also, a half-up style like Kate's also gives your hair a little lift behind where your tiara will be sitting to create a great shape.
Although it is great to get inspiration from our favourite celebrities, remember that it is your wedding day and you can have whatever you want!
Katie Cruickshank is writing on behalf of Aye Do, where you can get all the bridal accessories you will need to make you feel like a princess!
---
Cocoon Party
Here at Cocoon Party, we offer some of the very best wedding favours, including wedding favours for children so your finishing touches can be superb!